Much has been made of the "tropical" climate in Sochi, and wether or not there would be adequate snow to hold the games.  I am living in the Endurance Village right next to the XC ski venue, which is at 1500 meters of elevation.  I can safely say that there was no reason to worry and that there is adequate snowpack.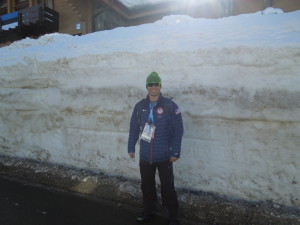 This is my third full day at the Olympics.  Sometimes its hard to know where the time goes.  Everything takes a little longer than you might think and there always seems to be one more thing that must be done.
This morning I tested skis with my coach Zach.  This is a picture of him preparing one of the 9 pairs of skis we evaluated today.
.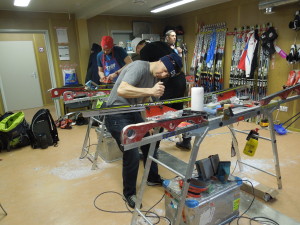 So far the skiing has been perfect.  Hard fast tracks for classic technique and supple corduroy for skating.  The cloudless blue skies and mountain views haven't hurt either.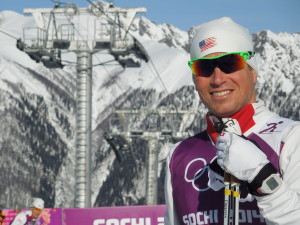 The XC venue is a 15 to 20 minute walk or a 4 minute snowmobile shuttle ride.
I opted to walk back to the village after training and took this photo of the village.  The brown building is the main reception area where all the athletes eat and go to the gym for strength training.  There is also a disco, an arcade, pool tables and a spa somewhere in there.  Behind the structure and down a small hill is the dormitory that I am living in.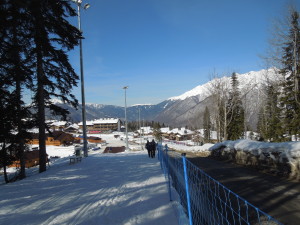 I think I will settle into a routine here now, and everything will become a little more relaxed.  There are so many tasks and things to learn when I first arrive at the Olympics that it is sometimes hard to cut through the excitement and gauge how tired I am.  It is time to decompress a little bit and get my mind wrapped around my first race start which is the 30k skiathlon at 2:00 PM this Sunday.